One Community, One Spirit
Feed Fannin is an organization of volunteers working together to educate and encourage our community towards self-sufficiency while providing food for those in need in Fannin County and the Copper Basin.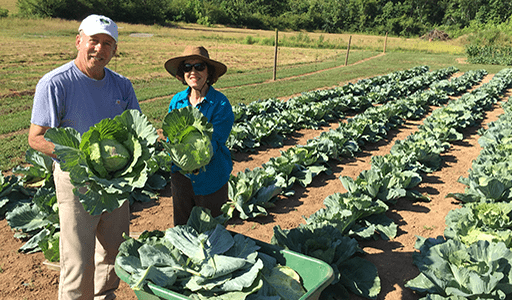 Feeding our neighbors in need.
Annually, we grow thousands of pounds of fresh produce in our garden at the Ada Street Farm, purchase vegetables from local farmers, and encourage donations of excess produce from individual gardeners in the community.  The fresh produce grown, plus milk and eggs purchased from local suppliers, and food staples sourced from regional food banks, stock the food pantry and are donated to other community partners for distribution to people in need of food assistance.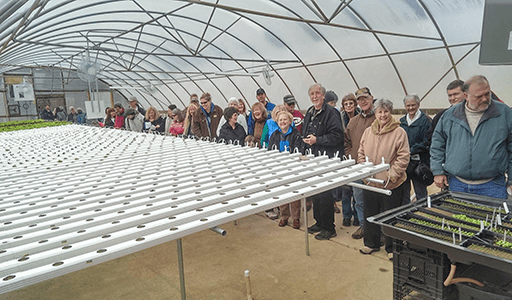 Educating towards self-sufficiency.
We provide gardening workshops for adults in collaboration with local businesses and organizations, and support youth gardens in our local schools.  In addition, we encourage community members to grow their own nutritious produce in Feed Fannin's raised beds gardens at the Ada Street Farm.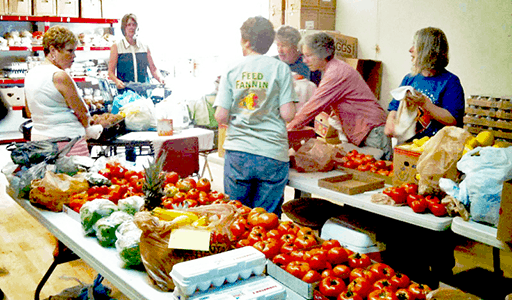 Supporting the food pantry.
Many Feed Fannin volunteers help serve clients at the Family Connection Food Pantry.  And donations to Feed Fannin make it possible to support food pantry purchases of nearly 100% of the food sourced annually from the Atlanta and Chattanooga food banks.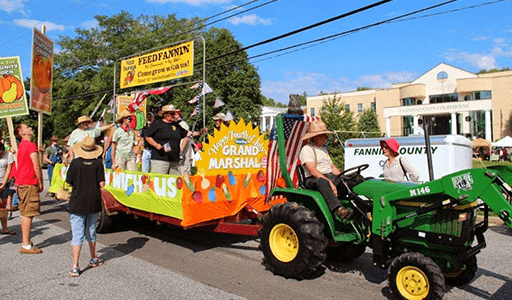 Engaging with the community.
We love getting involved with our community through fundraising events, parades, and festivals as noted on our events calendar. In addition, in 2021 we began new outreach programs with several community organizations to provide holiday turkeys and hams. Feed Fannin also began collaboration with two local partners to purchase eggs and milk on a regular basis for distribution to their clients in need of food assistance.
We strive to make an impact on hunger by providing food — grown by us and our partner gardens, plus items purchased and donated — to families in need of food assistance in our community. In 2021 we provided:
178,155 Pounds
14,261 pounds of produce grown and purchased locally
159,732 pounds of staples, canned and frozen foods purchased from regional food banks
4,162 pounds of non-perishable items collected in our Green Boxes and other direct food donations.
148,463 Meals
Meals provided from pounds of food grown, purchased and donated by Feed Fannin.
Additional Provisions
10,320 dozens of eggs
9,177 gallons of milk
1,313 holiday hams and turkeys

Additional nutritious items provided to Food Pantry clients and to community partners for families in need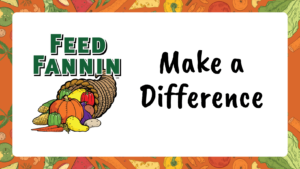 Fundraising
Dear Feed Fannin Members, Supporters and Friends, Feed Fannin continues to need your support. We are an all-volunteer organization and 100% funded through private donations.
Read More »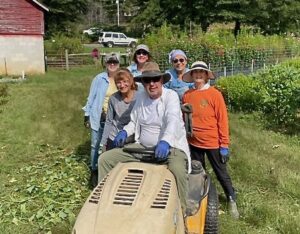 Garden Update
By: Kathy Beck, Vice Chair of Farm/Garden/Education As of the end of September, Feed Fannin has harvested 4,016 lbs. of produce from our Ada Street
Read More »

Fundraising
Feed Fannin hosted an elegant evening of fashion, good food, entertainment and eye- catching silent auction items while raising funds to feed the hungry on
Read More »
With a commitment to eliminating hunger in Fannin County and the Copper Basin, more resources are always needed.
Feed Fannin is grateful to all our community partners who help us get food we grow and food we purchase to those who need assistance.
And a special thanks to our business community who support Feed Fannin in more ways than we can count.  Your generosity and spirit of caring are amazing!  Feed Fannin is so grateful.