New Year, New Volunteer Opportunities!
Add volunteering to your New Year's Resolutions! Call 706-946-1001 or email us at feedfannin@feedfannin.org to let us know you'd like to help out. One person can help make a difference for many!
Connect with us!
One Community, One Spirit
Feed Fannin is an organization of volunteers working together to educate and encourage our community towards self-sufficiency while providing food for those in need in Fannin County and the Copper Basin.
Feeding our neighbors in need.
We grow and collect fresh produce that is donated to our neighbors through the local food pantry.b
Educating towards self-sufficiency.
We provide education and offer garden space to the local community to help encourage independence.
Supporting the food pantry.
We volunteer and collect food and monetary donations to give directly to the food pantry.
Engaging with the community.
We love getting involved with our community through fundraising events, parades, and festivals. 
We strive to make an impact on hunger by providing fresh vegetables and volunteers to the Family Connection Food Pantry. In 2019…
9,488 Pounds
of vegetables grown in our gardens were donated to the food pantry.
10,226 Meals
were provided to families in need through Feed Fannin donations.
15,547 Residents
of Fannin County used the food pantry for an emergency source of food.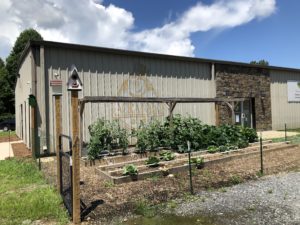 Garden Update
Feed Fannin's Mittleider Garden has been relocated to the Fannin County Family Connection on Industrial Park Drive in Blue Ridge and is settling into its new digs fairly well.
Read More »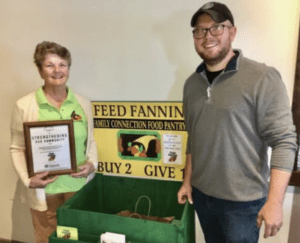 Announcement
We are excited to report that Starbucks recently awarded Feed Fannin a Starbucks Foundation Neighborhood Grant for $1,500 that was used to purchase $12,000 worth of food staples in bulk from the Atlanta and Chattanooga food banks.
Read More »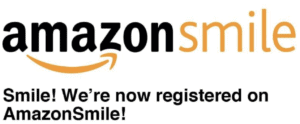 Announcement
Are you an Amazon shopper? Now, you can support Feed Fannin's mission by shopping on
Read More »
With a commitment to eliminating hunger in Fannin County and the Copper Basin, more resources are always needed.