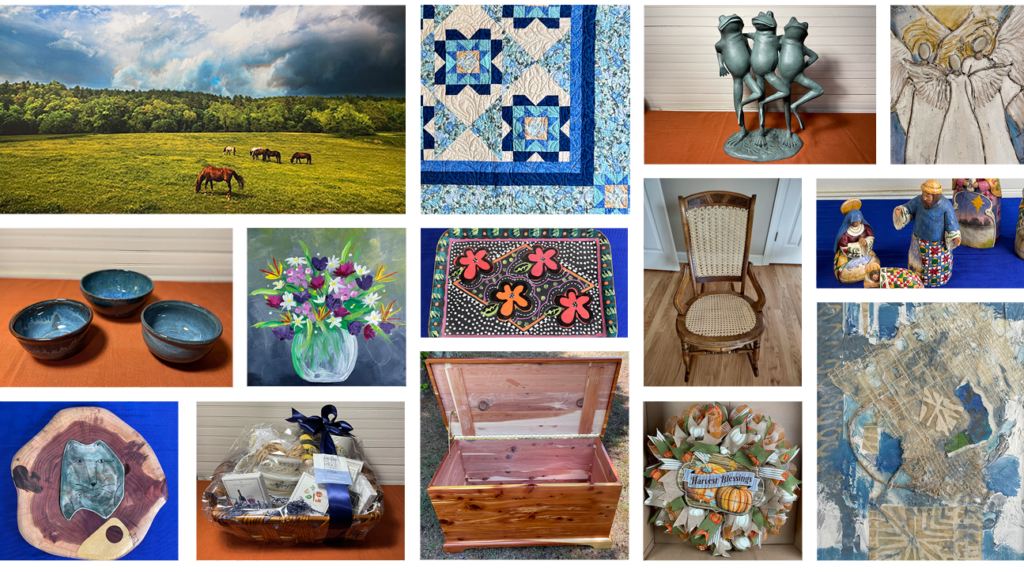 August 21 (noon) - August 30, 2022 (8:00pm)
About the Auction
Bidding Tips
Terms and Conditions
Pick-up &
Shipping Info
About the Auction
Welcome to our online auction!  We hope you will enjoy looking through our wide variety of items and bidding on those you like best.  It is a great time to buy presents for family and friends for all those special occasions and holidays coming up! Thanks to the generosity of local businesses, artists and individual donors, you can have fun bidding on your favorite finds while helping to raise funds that Feed Fannin will use to buy and grow food to feed families, children and seniors in need of assistance.
What's up for auction?
We have more than 150 unique and amazing items:
Paintings, pottery, and jewelry made by talented local artists
Gift certificates from local restaurants, breweries, golf courses, and outdoor adventure outfitters
Tickets to popular local, Atlanta, and Chattanooga attractions and the Blue Ridge Scenic Railway.
Experiences such as a night's stay at Harrah's Cherokee Valley River Resort, a horseback ride on beautiful mountain trails, and a pontoon outing on Lake Blue Ridge.
Get your bids in, starting on August 21, when we go live!
What do I need to do if I win an item in the auction?
If you were the highest bidder on some or all the items you bid on, you will receive an email or text letting you know that you have won the item(s). Hold on to this email, as it contains the Item ID #, which may come in handy when you are looking to pick-up your item, or have your item shipped.
The items you win as the highest bidder will be available for pick-up or shipping. See the Pick-up & Shipping tab for more details.
Can items be shipped?   
If you cannot be in Blue Ridge to pick-up your items, you can arrange for them to be shipped to you. See the Pick-up & Shipping tab for more details.
Who do I contact if I have a question or an issue?
Please email us at feedfannin@feedfannin.org or call us at 706-946-1001.
Thank you local businesses!
A big thank you to all the merchants, restaurants, individual donors, and many local businesses who graciously provided the items, services and gift certificates to make this online auction possible. We are so grateful for your generous support.
———————
Feed Fannin helps feed families, children and seniors who need food assistance. On behalf of Feed Fannin and those we serve, thank you for participating in our online fundraiser.
Feed Fannin, Inc. is an all volunteer 501(c)(3) nonprofit organization. Tax ID/EIN #45-5600278.  
Bidding Tips
Terms and Conditions
Pick-up &
Shipping Info
Feed Fannin, Inc. is an all volunteer 501(c)(3) nonprofit organization.
Tax ID/EIN #45-5600278.
Every $1 you donate helps us:

Purchase eggs, milk, and canned goods from area food banks and local retailers.

Maintain our garden by purchasing tools, lumber, composted soil, plants and seeds, etc.

Provide fresh produce grown with organic methods to more than 17,000 hungry individuals in Fannin.