Feed Fannin and the Fannin County Family Connection (FCFC) Food Pantry joined forces this year to support the local Meals on Wheels senior food program operated by the Fannin County Senior Center.
Last fall, Meals on Wheels requested the help of Feed Fannin volunteers in delivering weekly meals to their homebound low-income senior clients. In addition to doing that, Feed Fannin teamed up with the FCFC food pantry to provide a monthly box of nonperishable staples to Meals on Wheels clients living in outlying areas of Fannin County such as Cashes Valley, Higdon and Doublehead Gap.
These supplemental food boxes augment the Meals on Wheels dinners and typically contain simple-to-serve items such as peanut butter, bread, soups, stews, tuna, canned fruits, applesauce and cereal, along with protein shakes, juice, vitamin water and snack bars. Fresh fruits are included when available.
Nationally, nearly 9.5 million seniors are threatened by hunger. One in four live alone, and one in five are lonely. Fannin County's senior population is even more stressed, and Meals on Wheels addresses this need.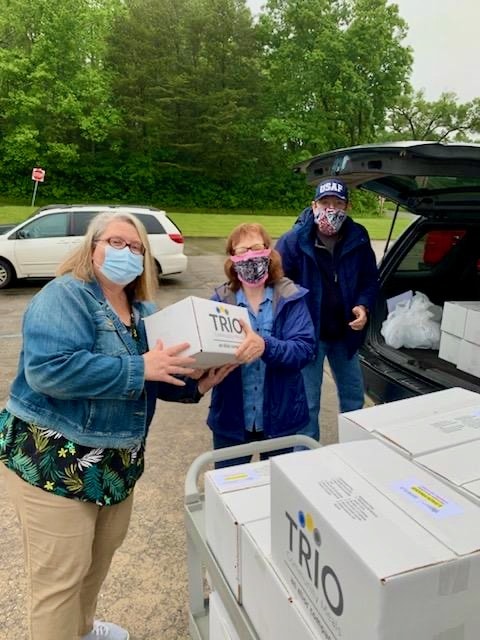 The 45 low-income seniors visited weekly (normally) and now bi-weekly due to the coronavirus pandemic are shut-ins who lack access to healthy food and adequate nutrition on a daily basis. And as older adults, many with chronic health conditions such as diabetes or heart disease, they are at heightened risk to develop COVID-19. In addition to all of the other effects the virus has had on the world in 2020, it has put our low-income seniors in danger of malnutrition, hunger and depression. 
Pam Godfrey, Fannin County Senior Center & Fannin County Meals on Wheels site manager, oversees the local Meals on Wheels program. In addition to providing group meals at the center on weekdays for 35-45 seniors with the help of volunteers from local churches and other organizations, she manages a small fleet of volunteer drivers who fan out across the county to deliver Meals on Wheels to those who are homebound and cannot come to the center. 
Godfrey is quick to emphasize that her "staff are an invaluable part of this process." Regretfully, they have had to suspend providing these hot meals at the Senior Center temporarily to reduce the chances of spreading the virus. The regular delivery of food is all the more critical at this time.  
"Last fall we were down some drivers when Sandee and Jeff Gorham and some others from Feed Fannin approached me about collaborating with their organization and the food pantry to deliver food along two of our regular routes, and we've been very happy to have them work with us," said Godfrey. 
"We are very blessed to have a lot of good volunteers helping us to serve Fannin County residents 60 and older," Godfrey continued. They've been particularly valuable during the pandemic, when some of our longtime volunteers have had to stop driving their routes because they are at high risk for the coronavirus themselves."
"This is a segment of our population that is really hurting," said Feed Fannin and FCFC volunteer Sandee Gorham, who along with her husband delivers food boxes to those on her route. "These are homebound seniors who can't make it to the Senior Center for a daily meal or drive to the Food Pantry for a cartload of groceries, and we need to support them, both with food and companionship," she said.  "We have an amazing and dedicated team of volunteers who regularly drive a Meals on Wheels route as well as order, pack and deliver the supplemental food boxes. They so richly represent Feed Fannin's One Community, One Spirit philosophy!"
Sherry Morris, executive director of Fannin Country Family Connection, grew up in the area and understands the population who depends on Meals on Wheels for survival. 
"These are typically people who have spent their lives earning local wages, almost never above minimum wage," she said. "They exist now on $400-700 per month. Generally, their children grew up and moved away — there was nothing for us here when I was growing up except boarded-up towns and a defunct mining company. So, we have seniors stuck at home with virtually no income and little help from family members who long ago left the area."
You Can Help!
Feed Fannin and the Food Pantry intend to continue to provide the supplemental food boxes to the Meals on Wheels patrons on a monthly basis. Anyone wishing to help support the initiative can contribute with donations or volunteering their time by contacting:
Feed Fannin
Visit feedfannin.org to find out more about ongoing volunteer and community project needs. You may also email us at feedfannin@gmail.com or call 706-946-1001 (leave a message) for further information. Monetary donations may be mailed to PO Box 1085, Blue Ridge, GA 30513
Fannin County Family Connection
Visit fannin.gafcp.org or call 706-632-6063 for further information. Monetary donations may be mailed to PO Box 2715, Blue Ridge, GA  30513
Fannin County Senior Center
Visit ngcainc.com/senior-life-services-fannin-county or call 706-632-6063 (leave a message) to find out more about ongoing volunteer and community project needs. Monetary donations may be mailed to 440 W. First Street, Blue Ridge, GA 30513
Diane Payne, Newsletter Editor