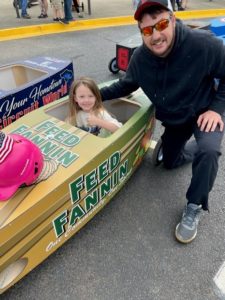 Feed Fannin was contacted by the Blue Ridge Soap Box Derby organizers informing us that a local business had offered to sponsor Feed Fannin as a non-profit entry into the annual Blue Ridge Soap Box Derby. We were delighted to be selected by Mountain Place Realty for their sponsorship and were "off to the races" to prepare for our first ever entry in the derby.
Kinslee, who just turned 7 years old, did a great job of driving Feed Fannin's first entry ever in the Blue Ridge Soap Box Derby on April 30. The youngest of the drivers in Category 1 (for 7-12 year olds), Kinslee won her first two heats before a rival managed to edge her out in the third heat just before she reached the finish line. Kinslee is the daughter of TJ Anderson, a local veteran.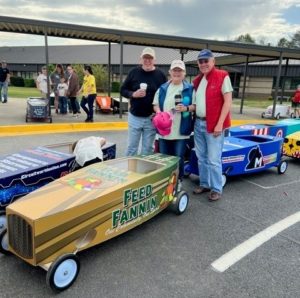 It was a beautiful day for the races and a wonderful way for kids and their families to enjoy time together cheering each other on.
Many thanks to Kinslee and Derby organizers Brian Higgins and Mike Sullivan for arranging this fun event to raise funds for the very important STEM program in local schools and to Mountain Place Realty for sponsoring the beautiful Feed Fannin derby car!