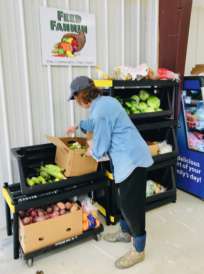 Feed Fannin began a new Farm to Pantry produce initiative last summer that has proved very successful. In June 2020, just as the coronavirus pandemic was worsening, the Fannin County Family Connection Food Pantry stopped receiving fresh produce through a grant that had expired.
Meanwhile, the pantry had been serving a record number of clients throughout the spring of 2020, thanks to so many people being forced out of work, and fresh produce donations from the pantry's usual sources had dried up.
Feed Fannin saw an opportunity to further support the community and began in mid-summer to source and purchase produce from local farmers. The organization continued this initiative weekly through the winter months and right through the present day. From July to December 2020, the Feed Fannin gardens and the Farm to Pantry produce initiative provided 13,100 lbs. of produce to hungry pantry clients.
Old Dial Road Farm grew and supplied Feed Fannin with beautiful lettuce, cabbage, collards, radishes, carrots and Swiss chard from their greenhouse throughout the winter. In addition, Feed Fannin has sourced tomatoes, potatoes, squash and cucumbers from other local providers.
What a blessing to watch the reactions of pantry clients as well as volunteers when all the beautiful produce has been delivered to the pantry each week!
Throughout the pandemic, the lobby of the food pantry has been closed to the public—volunteers ferried shopping carts full of groceries and produce outside to the cars of waiting clients, but the lobby reopened this May, and Feed Fannin has a new fresh produce section just inside the doors. FF Chair Ron Ciochon purchased the black produce shelving himself, and volunteers had a sign made to call attention to Feed Fannin's role in providing produce for pantry clients. Volunteers are shown above stocking the shelves with fresh Farm to Pantry produce.